Vacationing in a ski town like Vail, finding a family friendly restaurant doesn't have to be a chore. Vail has a number of restaurants which your family members of all ages will have a great memorable experience. Here are a few of our favorites.
One of Vail's unique dining experiences is at Cinebistro in Solaris. Cinebistro is a movie theater AND restaurant wrapped into one! Just as you would make a reservation at a restaurant, you can reserve your theater seats ahead of time, which is highly recommended. To have dinner at the theater, arrival 30 minutes ahead of time is required. As you enter the theater, you'll notice the big cozy leather viewing seats which are as comfy as they look. Before you order that bowl of popcorn, try the juicy wagyu beef sliders and yellowfin tuna tacos, pan seared Atlantic salmon or shrimp mac n cheese. For your sweet tooth, forget the boxed candy, have a crème brulee cheesecake, stacked chocolate brownie or deconstructed peanut butter pie. Sit back and enjoy the feature film.
Take your family dining experience international, to Switzerland and the Swiss Chalet Restaurant, located at the Sonnenalp Hotel. Nothing speaks tradition like the ambiance and staff at the Swiss Chalet. As soon as you walk in the door, you feel as though you are truly in a mountain chalet in the Swiss Alps. Dressed in traditional Bavarian wear, the staff will treat you with the impeccable hospitality.

For the grownups at the table, start with a steak tartare. Next, get ready for cheese fondue, which is always fun to share with those you love, dipping bread, potatoes and veggies in warm European cheeses. There truly isn't anything better on a winter night! Don't forget fondue traditions, if a women drops her food into the fondue pot from her fork, she must kiss the people sitting next to her. If a man drops his food into the fondue pot, he must buy a round of drinks for the table. Another menu item not to miss is the Bavarian staple dish, Wiener Schnitzel, always delicious at the Swiss Chalet. Don't skip dessert, for the kids, chocolate fondue with fruit and sponge cake, is another highlight at the Swiss Chalet. In addition, order a traditional Apfelstrudel (Apple Strudel) for the table to share.
Throw some strikes while having dinner at bol, the only bowling alley in the Town of Vail. The atmosphere at bol is not your typical "old school" bowling alley. The décor has the looks of a high end club where families are welcome. Order apps, dinner and drinks while bowling or make a dinner reservation in the dining room. Guaranteed you will be impressed with menu items like crispy confit chicken wings, honey glazed ribs, Colorado striped bass or the Tomahawk (25 oz of local Eaton Ranch ribeye). For the kids, pizza, fish n chips, mini bol burger and chicken fingers. Kids Cocktails like "The Bunny Hill" will sure put a smile on your child's face, made with chocolate milk, whip cream and cookie crumble. If you do plan on bowling on one of the ten lanes, reservations are highly recommended. During holiday seasons, lanes can sell out months ahead of time, plan accordingly.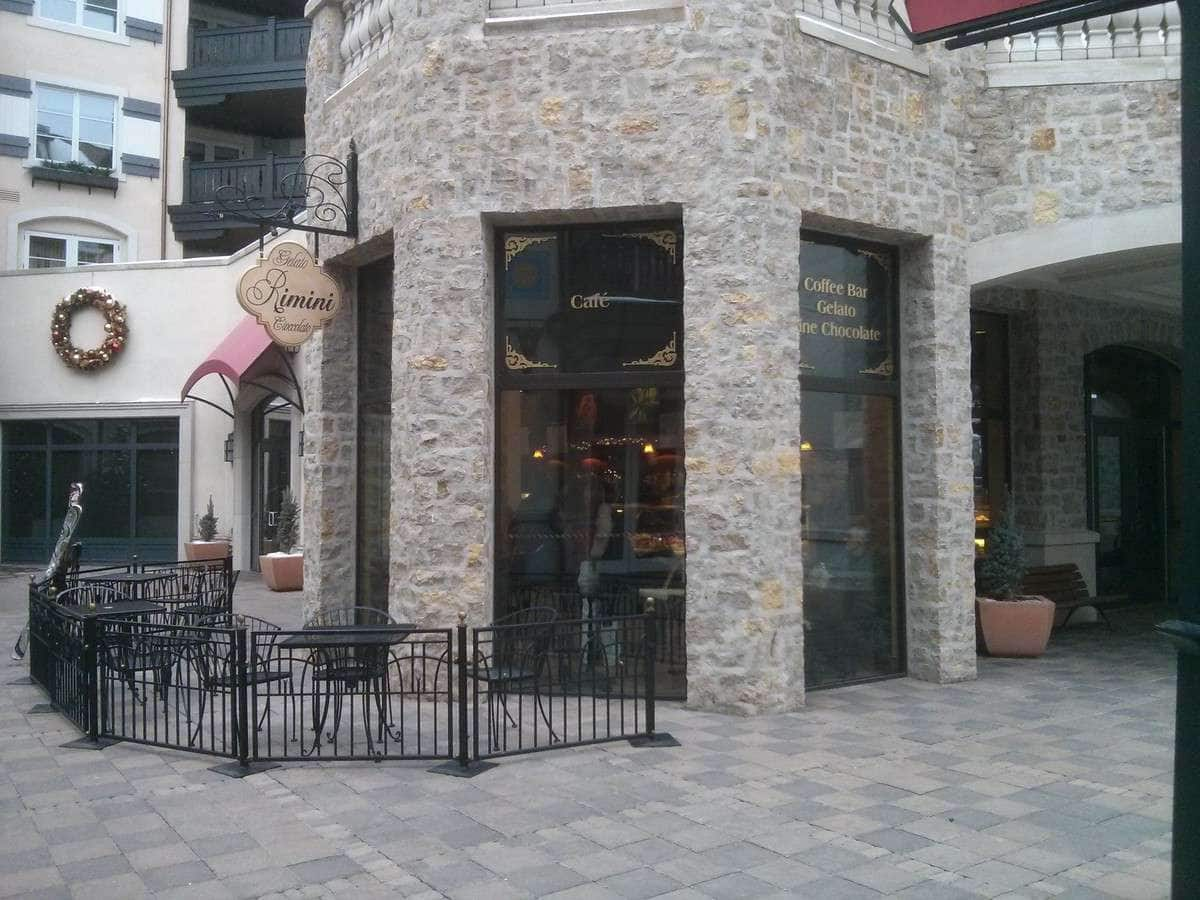 For a sweet treat after skiing, hiking, whitewater rafting, ice skating or biking, head to Lionshead for gelato at Rimini. The kids and the adults in your group will be ecstatic about this place! Rimini features 24 daily gelato flavors, it is difficult to choose just one flavor! For the coffee lovers in your family, Rimini has the most beautiful tower espresso machine this side of the Atlantic! Here's an insider's tip, buy some of the house-made chocolates to go to have in your condo for later.